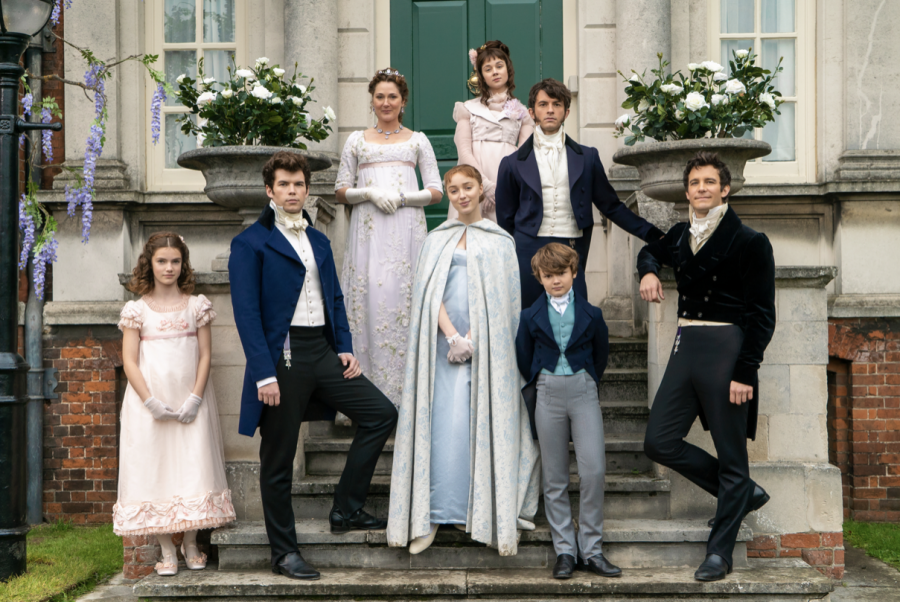 By Carolyn Malman
Since it's release on Christmas Day, Netflix's new period drama titled Bridgerton has had viewers buzzing. Based on the books by Julia Quinn, this series follows the Bridgerton family as they navigate through social life in Regency London in the early 1800s. The show is narrated by the mysterious Lady Whistledown, who writes gossip columns about social life in London. These columns cause drama throughout London socialites, and make the emerging social season much more interesting. Specifically the show focuses on the fourth born Bridgerton child, Daphne. After Daphne emerges into London society, she must navigate through this tumultuous social season, and hopefully find her perfect match.
The show combines the feel of a classic period drama with a modern twist; it showcases many powerful female characters, and their struggles to overcome an oppressive society. In addition to this, viewers immediately fall in love with the eight Bridgerton Children: Anthony, Benedict, Colin, Daphne, Eloise, Francesca, Gregory, and Hyacinth. According to the Bridgerton website, these alphabetically named children each have a book dedicated to their stories. The first book, dedicated to Daphne, is the basis for the first season of this new hit Netflix series. Fans are anxious for another season, and many have even begun to read the books. Bridgerton  fans are in luck, however, because according to Marie Claire, "season two of Bridgerton would [have begun] filming in July 2020". Due to the coronavirus, the filming was pushed back to March of 2021. Sadly, fans will not be getting the new season as soon as they hoped, however it is confirmed that a new season is in production. 
Bridgerton has been an immediate success worldwide as people fall in love with the storylines, and even wish that people still attended lavish balls like they did in the 19th century. Some scenes may be too graphic for young viewers, however it is an extremely joyous story overall. If you have not watched Bridgerton already, check it out using your Netflix subscription.