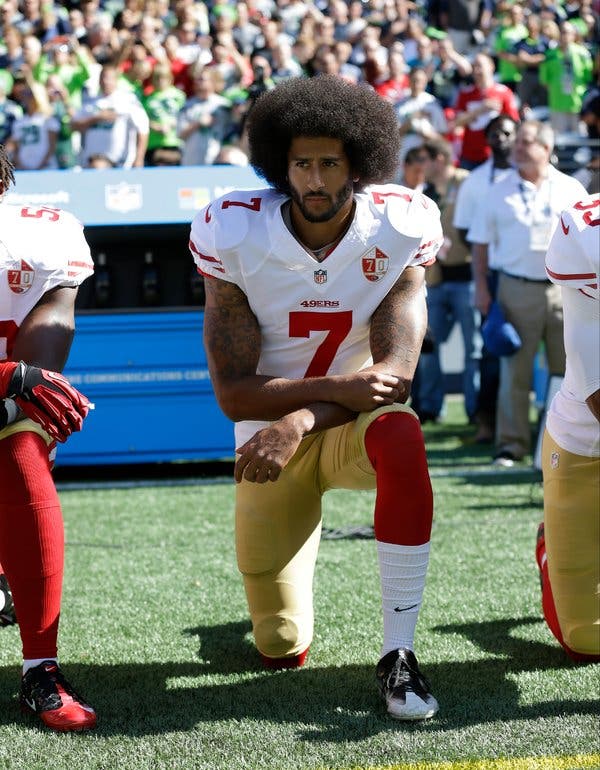 Colin Kaepernick, a former San Francisco 49ers quarterback, became the first NFL player to take action against police brutality and racial inequality when he kneeled for "The Star-Spangled Banner" during a game against the Los Angeles Chargers in September 2016. Four consecutive seasons later, Kaepernick remains a free agent in the NFL.  
After the 2016 season, the 49ers informed Kaepernick that the team planned to release him therefore, in early March 2017, he opted out of his contract. The following season, Kaepernick filed a collusion lawsuit against the NFL which was not settled until last February. After the settlement, the NFL organized a workout in November for Kaepernick to showcase his abilities. When the league restricted access to the media and required him to sign a liability waiver which his lawyers described as "unusual" he pulled out of the event and hosted his own. Four consecutive seasons since he first kneeled, Kaepernick remains a free agent in the league. 
Following what many considered to be his blatant disregard for American values, many of Kaepernick's teammates publicly denounced his football skills – although they claim these criticisms to be completely unrelated to his controversial kneel. In 2017, former 49ers quarterback Joe Montana described Kaepernick's presence in the locker room as a distraction. The quality of the individual player matters little "if you weren't fitting into what [Bill Walsh, coach of the 49ers] was looking for", Montana mentions. John Lynch, general manager of the team, claimed that "football is not at the top of [Kaepernick's] list [of priorities]". Four years later, Kaepernick is still being neglected by numerous NFL teams. This past Wednesday, the Broncos signed Blake Bortles, who many believe to be unsuitable for the Broncos team, as a quarterback. Broncos coach Vic Fangio did not even consider Kaepernick for the position – "his name hasn't come up", he said when questioned about his decision. 
In recent years Kaepernick has received much negative attention regarding his political actions, yet the recently-invigorated Black Lives Matter Movement has renewed positive attention to the quarterback's movement. Nike, a leading partner of the NFL, recently released a monochrome Colin Kaepernick jersey commemorating four years since he took a knee. The jersey sold out in less than a minute. When he kneeled in 2016 many players did not support him doing so, however, there were several that did including Eric Reid, a safety for the 49ers, who followed the quarterback's example and kneeled alongside him. 
NFL President Roger Goodell admits that he wishes the league "had listened earlier" to what Colin Kaepernick was protesting, adding that he would welcome a team signing Kaepernick. Seattle Seahawks coach Pete Carrol and Los Angeles Chargers coach Anthony Lynn expressed interest in the quarterback this past summer. Although, a source told Pro Football Talk's Mike Florio that the teams expressed nothing more than fake interest in Kaepernick, continuing his pattern of being pushed aside by the NFL.   
Colin Kaepernick has made an ever-lasting impact on the NFL, creating a rift among those in favor and those against his peaceful protests. The decisions he made in the 2016 NFL season have – and will continue to – affect his career. As the 2020 NFL season is currently well underway Kaepernick remains undrafted. His chances of joining an NFL team become slimmer and slimmer as the season progresses.