Phil Murphy's Plan to Return to the World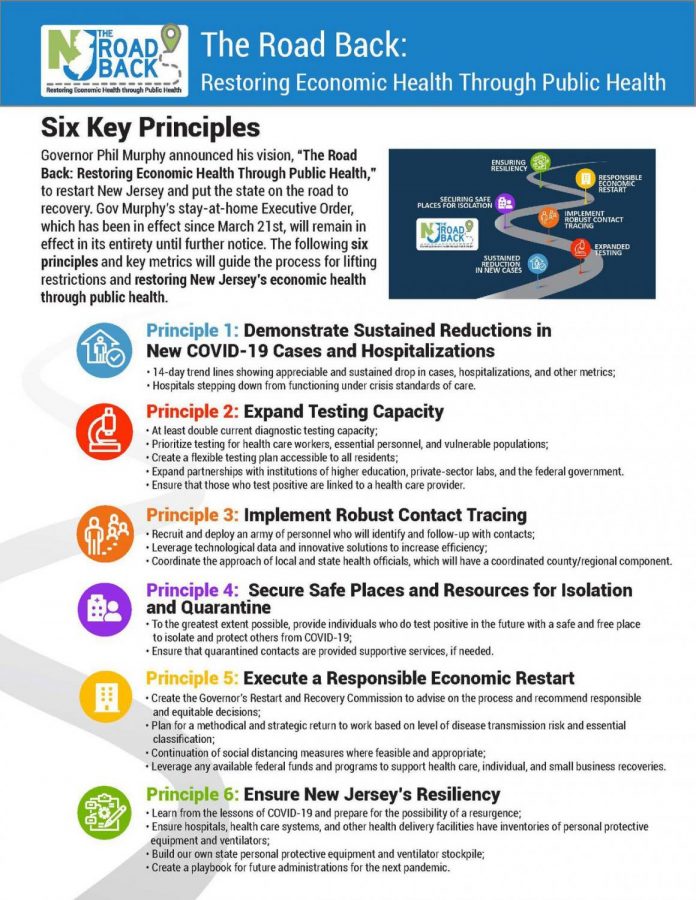 This period of quarantine has not been easy on anyone. It is sometimes surreal when you think about the fact that we are living in an international pandemic that has killed so many people already and strained our healthcare system. But, New Jersey's governor, Phil Murphy, has a six-point plan to enter our state back into normal society.
The first point that the governor will be looking for will be a 14-day trend showing a consistent decrease in deaths, new cases, and hospitalizations. After that, the next step would be to double testing in the state so that there is much more access to testing state-wide and the amount of current cases can be more accurately understood. Following that, Murphy plans to enact a serious tracking team, where they can trace new cases or outbreaks and immediately track them and stop them from continuing to spread. 
Once the people who have been confirmed with the virus have been identified, Murphy plans to create a safe place where the people can heal in an isolated space and remain in quarantine. This will eventually allow for the healthy people to start leaving their house while the virus becomes contained in specific spots. Once all of those measures have been taken, Murphy takes his fifth point to begin to restart the economy of New Jersey to start reopening businesses and returning to normal. But, there is still the sixth point of resiliency. According to NJ.com, Murphy is taking all measures into account to try and prepare the state for the possibility of a resurgence. 
Murphy has received lots of backlash for this plan because of the fact that the population has received little information on a timeline of when New Jerseyans can start their lives again. 
According to WFMZ-TV, Republican Senator Mike Doherty "said it is unacceptable Murphy isn't offering more details about when many businesses can reopen and people can get back to work." The comment section on Murphy's instagram has been extremely polarized recently as well, including many comments praising his decision and detesting it, where many people have stated that they will begin to reject social distancing protocol and start engaging in physical contact. 
He has not released a strict timeline for the end of social distancing because everything is based on the data received by the state on a day-to-day basis. But, Murphy has estimated that the second and third points will hopefully occur around late May. After that, an end will soon be approaching and New Jersey as a whole will be able to restart our economy and hopefully enjoy a majority of our summer. 
To see more information on his plan and other statistics, check out the video here where Murphy officially announced his plan to the people. Note that this was the livestream of April 27 and that NJ.com has been posting every weekday with updates and statistics.
NJ.com