Student Shout Out: Four Years of Choir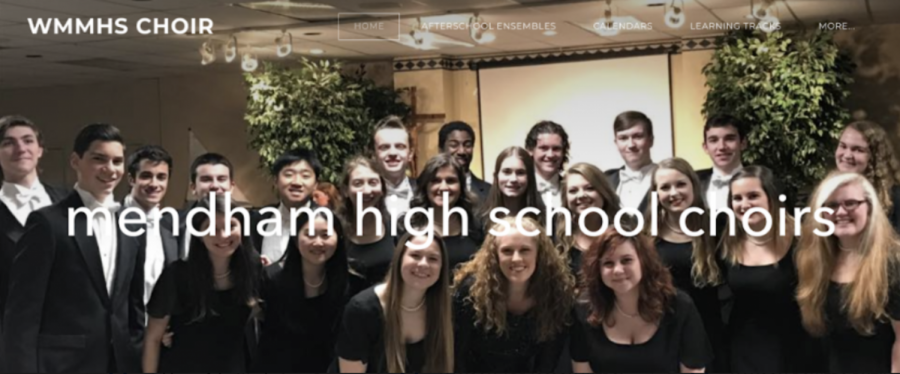 Of several fine arts classes available to students at West Morris Mendham is choir, which is taught at the academic and advanced level by Mrs. Danner, and is also offered as an option for an IB class. Each year, there are many freshman who join the class, and while there are a good number of choir students who stop taking the class after one or two years (scheduling conflicts and having filled their fine arts requirement being two of the most common reasons), there are some students who continue to take choir for the entirety of their high school career.
This year, this group of students who have taken choir for four years includes Saira Alam (alto), Deidre Thompson (soprano), Amelia Berisha (alto), Liz Brown (alto), Ben Brown (bass), Mariana Bulko (soprano), Sophia Pettine (alto), Adam Smith (bass), Dasha Svitenko (alto), Katie Vaillancourt (soprano), and Carsen Fessenden (alto).
One of these students, Saira Alam, who participates in several music groups alongside being a choir student (Mendham Voices, Treble Makers, Ladies in Red, and Jazz Workshop) explains why she first joined choir by saying, "My grandfather used to be the choral teacher here when my mom, aunt, and uncle went to school at Mendham. I joined so that I can sing the same music that my family has sung." Alam specifically names the Messiah and The Lord Bless You and Keep You as two of these musical pieces. She also says that part of the reason she joined choir is that she loves singing with other people who are passionate about music. As for how choir has affected her, Alam explains that it's all been positive: "It's made me become more confident in myself and has introduced me to a wonderful community in the music department. I developed a lot of strong friendships during my time in the choir as well as unforgettable memories."
When asked about her favorite memory from choir, Alam says that that distinction belongs to singing the Messiah. She also adds, "I would say that all the students have a really strong connection to the Messiah. I've learned something new about the music and myself every year that I have sung it." In her freshman year, Alam and the other choir students learned the notes; sophomore, the song All We Like Sheep was added to her repertoire of songs from the Messiah; junior year, then confident in knowing all the music, Alam tried out for a solo; and finally, in senior year, Alam and the other students were able to look back at all they had accomplished and be incredibly proud of their hard work. "It is an unforgettable experience to be a part of the Messiah, especially when you know that you are following such a long-lasting tradition," Alam says.
After four years of choir at Mendham, Alam plans to continue immersing herself in music, and is planning to attend the County College of Morris for two years while she hopes to sing in many different gigs. She then plans on transferring to William Paterson University to study Vocal Jazz and performing.
Another of these students, Deidre Thompson, who also participates in several music groups alongside choir class (Mendham Voices, Treble Makers, as well as being a part of the school musical each year) says of why she joined choir to begin with: "I joined choir because I have been singing since the age of 5, and I wanted to continue that in my high school career." She also adds that she couldn't imagine her life without singing and music, and says, "Being a part of choir not only kept my voice in shape from singing every day, but also introduced me to a family of people that have common interests with me and common passions. Everyone in choir will be a part of my life forever because of this passion and this goal we share for ourselves."
As to her favorite aspect of choir, Thompson says that she loves how easy it is to make friendships, and mentions that she met her best friend due to choir and she is incredibly grateful for that. "Singing together forms friendships by itself," she explains, "you are forced to share your heart with everyone." Thompson also plans to continue immersing herself in music. She will be studying theater at Wagner College and plans to take voice lessons and to participate in musicals as often as possible. Singing will always be a part of her life.
Both of these girls, like all of the choir students who have been taking the class for all four years they've been at high school, strongly encourage all their fellow students to try taking the class. Alam encourages joining by saying, "Singing is an outlet for me and it can become one for you! Mrs. Danner has shaped it into a class where students are excited to go to every single day and look forward to singing together. Everyone is accepted in this class and work together to create beautiful harmonies. Thompson also recommends taking choir and has much good to say about the class: "Choir is one of the only classes in this school that lacks pressure and is simply to fulfill a passion and get better at doing what you love. Having choir in your schedule is a break in the day. I have never once been stressed or upset because of choir. It is a wonderful way to relax from the pressure of high school and take it out through song." Clearly, choir is a wonderful option for a class, and has had so many positive effects on many students' lives.
Finally, congratulations to all the seniors who have continued to take choir for all four years that they have been in high school (and who have also participated in musical groups and activities outside of choir class), and much luck to them in the future as they continue to pursue their interests in life, whether that be in music or elsewhere!