Athlete of the Week: Jackson Losee December 9th-December 15th
Hang on for a minute...we're trying to find some more stories you might like.
Although the Mendham Boys Basketball team suffered a loss to Delbarton on December 14th,  the score of 58-61 does not properly reflect the level at which these boys played at to open their season. After watching this heartbreaking, yet exciting loss and despite all the boys playing well, from a fan standpoint, Senior Jackson Losee took the Delbarton gym by storm and completely dominated in the paint. Against Delbarton, the 6'6 Center blocked 6 shots, got hold of 7 rebounds, and had 2 Field Goals and was able to hype up the crowd because of his fantastic play. In a brief interview, Losee comments on his appreciation for the crowd in saying, "Fans are a major part in how I play. When I hear all of my friends in the stands cheering me on, it gives me more confidence and energy." Every single student jumped up and down as Jackson blocked shot after shot, changing the momentum of the game. He hopes to help his team to win counties later this year and is extremely excited for their next game against Delbarton at Mendham on January 24th.
About the Writer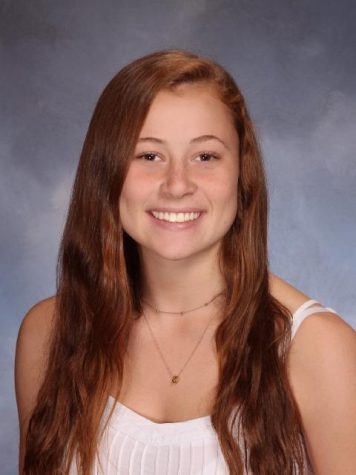 Julia Baggio, Staff Writer
Julia is 18 years old and a staff writer for The Patriot. She is one of the captains on the Girls Soccer Team and has a brother and a sister. Julia loves...